Summer Term 2
Once again, we celebrated coming to the end of the school year by making lots of presentations for the excellent learning and achievements of so many of our pupils. Awards were given for Citizenship, sports, Headteachers Gold Awards, Good Terms work, Merit Certificates for the year, Attendance, Achievement, Model pupil, Outstanding effort and handwriting. New prefect, House captain and librarian badges were also presented, ready for the next academic year.
Spring Term 2
What a lovely assembly this morning! We celebrated again with our fantastic pupils and presented awards for bookfair helpers, attendance, Gold Awards, Good terms work and Citizenship. We have so many fantastic pupils and so much to celebrate. Well done everyone!
Spring Term 1
Once again we celebrated with the children all of their amazing work this half term. Certificates were presented for half term 100% attendance and 100% attendance since the start of this academic year in September. Two certificates were also awarded per class, celebrating learning and attitudes for the Half Termly Headteachers Gold Awards.
Autumn Term 2
We held our final assembly before Christmas on the last day of term - our Christmas Jumper Day. We enjoyed celebrating all the amazing achievements of our pupils. Certificates and prizes were presented for; Good Terms Learning, Attendance, Half term gold awards, Citizenship, the class most improved at Big Maths and Louise Haigh MP presented prizes for the winners of her Christmas card competition. Well done to everyone and Happy Christmas!
We said goodbye to our caretaker and one of our cleaning/lunchtime staff in our end of term assembly. We also celebrated children with 100% attendance and the Headteachers Half Term Gold Awards were presented.
Awards Assemblies Summer Term 2 2018
We hold 3 different awards assemblies at the end of the academic year we have so many amazing achievements to celebrate! Our first one was held on Friday 20th July and celebrated pupils with 100% attendance for the term and whole year, special attendance awards for the year, athletic prowess, handwriting awards, the most improved class at Big Maths, and a Good Terms Work! Well done to everyone - you are amazing.
Our final two Awards Assemblies were held on Monday 23rd July. This was another lovely celebration of achievement and we presented certificates, prizes, badges and trophies for; Merit awards, Y5 and Y1 Citizenship, KS1 Model Pupil, Sports Boy and Sports Girl, Sporting Achievement, Achievement trophies and Outstanding Effort. We also announced next year's prefects, House Captains, Monitors and Librarians.
Awards Assembly Summer Term 1 2018
Once again we celebrated some of the amazing achievements our pupils have made this half term. We presented awards to the class with the highest Big Maths improvements (Y2T), the House Captains of the winning team in the Benchball competition (Don), 100% attendance for the year and half term and our Headteachers Gold Awards. Fantastic work everyone, keep it up.
Awards Assembly Easter 2018
We celebrated lots of wonderful achievements and progress in our awards assembly at Easter. We presented half term attendance and certificates for 100% attendance since September, Headteachers Half term Gold Awards, books for a good terms work and our Citizenship trophies. We are so proud of our wonderful pupils - well done to everyone.
Awards Assembly February 2018
We presented our half termly Gold Awards in our final assembly of the Half Term. It was lovely to hear what fantastic learners and citizens we have at Intake School.
Awards Assembly December 2017
Once again we were proud of the achievements of our pupils and presented our Headteacher Half Term Gold Awards, Good Terms Work, Citizenship Trophies, Attendance Certificates and Big Maths Progress. Well done to everyone.
Awards Assembly October 2017
Our Headteacher Half Term Gold Awards were given out in our final week of the half term. It was lovely to hear the reasons given for the awards- making great progress, being ready to learn, being good listeners, always giving 100% effort, settling in to school life - to name but a few. Well done to everyone who was awarded their certificates - we are all very proud of you.
Awards Assembly Summer 2017
Top Row, Left to Right:
KS1 Merits, Y3/4 Merits, Y5/6 Merits, KS1 Citizenship, KS2 Citizenship, Achievement Trophies, Good Terms work
Bottom Row, Left to Right:
Outstanding Effort, Sporting Achievement, Special Achievement Award, Sports Boy, Sports Girl, KS1 Model Pupil
Top Row, Left to Right:
Podium Places from Athletics (City Finals); Big Maths Class winners (most Improved); Girls Football (League Winners); Gold Awards; Gold Awards; Handwriting Awards
Bottom Row, Left to Right:
Special Attendance; Sports Day Cover Competition Winners; Boys Football (League Winners).
Gold Awards and 100% Attendance were presented.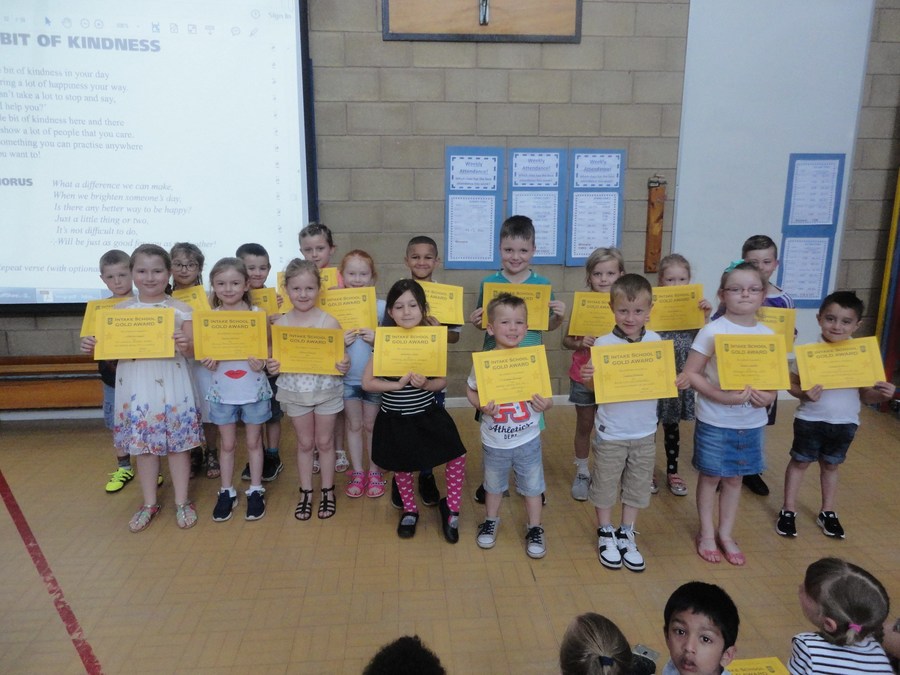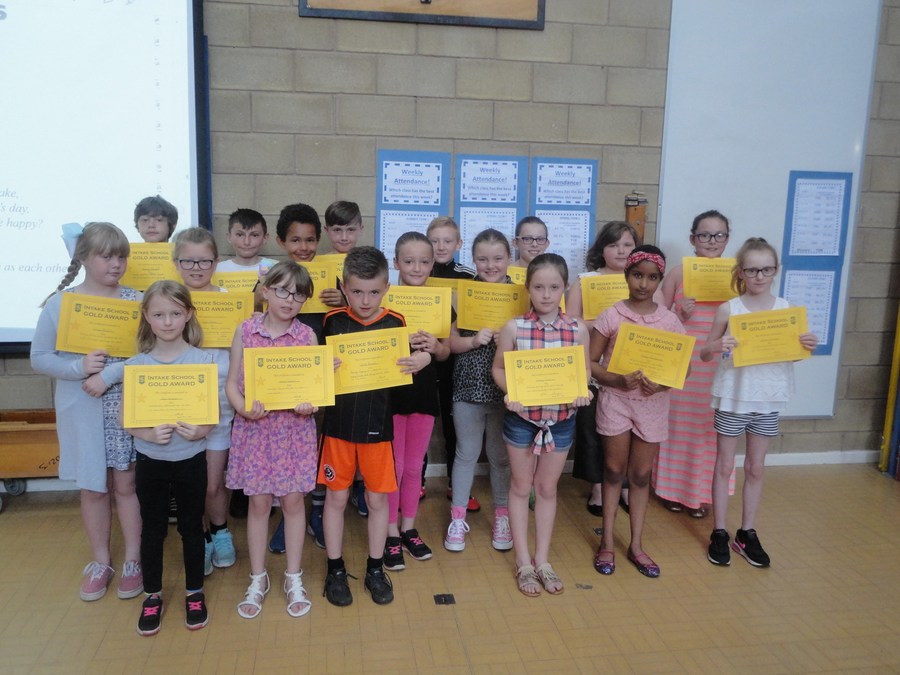 Gold Awards, Good Terms Learning and 100% Attendance were presented.
KS1 and KS2 Citizenship Awards
Half Term Gold Awards February 2017
Our pupils have once again been fantastic Intake Learners and it was with pride that we presented certificates celebrating their achievements and successes in our final assembly of the half term.
Christmas Awards Assembly 2016
Our awards assembly was held on our final day of the term before we broke up for the Christmas holidays. We were very proud to hand out lots of awards to our hard working pupils. Awards and certificates this term were given for: 100% attendance, half termly gold awards, a good terms work, recognition of a good deed in the local community, citizenship and Louise Haigh (our local MP) came in to present the winners (1st, 2nd and 3rd place) for her Christmas card competition with framed prints. Well done to all winners - you make the school very proud.
Below are our citizenship winners from Year 2 and Year 6. They each share a trophy for the term, get a small trophy to keep and a voucher provided by the local Basegreen Tenants association.
Summer Term Awards Assembly
Both Key Stage 1 and Key Stage 2 held their main awards assembly on the last Thursday of term. These both were lovely events celebrating many of the wonderful children at our school. Prizes and certificates were given for pupils who had worked well all year as well as the termly trophies for good citizens. Alongside these our annual trophies for 'Sports Girl', 'Sports Boy', 'Sporting Achievement' (this year for goalkeeping), Achievement, Key Stage 1 Model Pupil and Outstanding Effort were awarded to thoroughly deserving winners. We also took the time to thank the out-going Prefects and House Captains and introduced the new ones to the whole school. When reflecting on such an assembly as this, it is clear just how fantastic all our pupils are and what talents they all have. Thank you to all pupils and parents for such a great year.
Mini-Awards Assembly
Lots of very hardworking, talented pupils received awards in our whole school assembly on Wednesday. These awards celebrated attendance, good work over the half term, Big Maths progress, athletics successes, handwriting and musical abilities from the recorder club. Well done to all winners - you make Intake School proud.
Pupils were given a challenge over the Summer Holidays to keep their reading skills sharp. They had to read 6 books in 6 weeks. Pictured below are some of the pupils who rose to this challenge after being presented with their certificates and book tokens in assembly.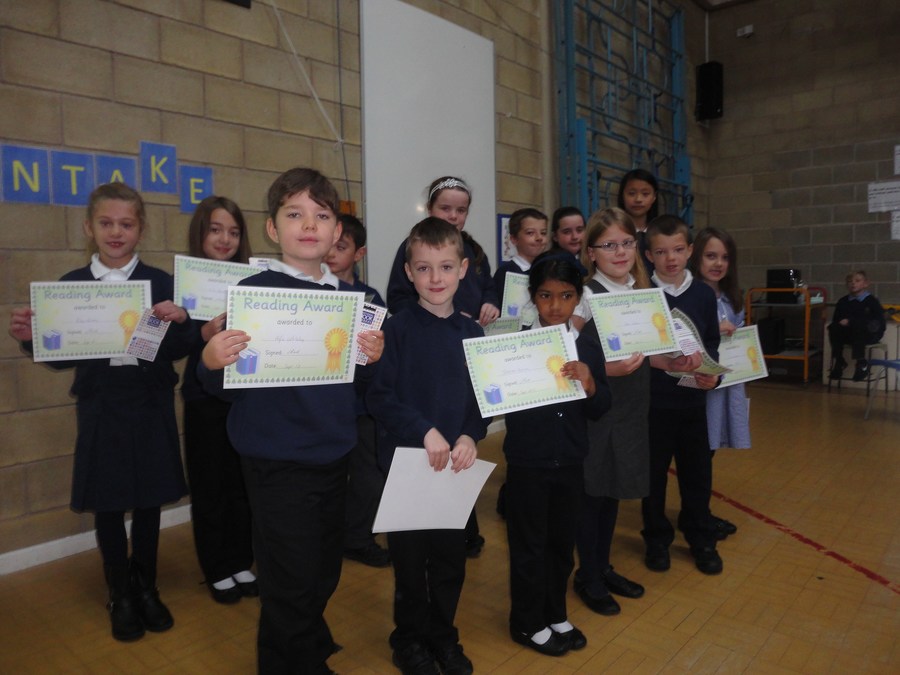 End of term
Awards Ceremony
At the end of each term we hold an Awards Ceremony. The awards include Headteacher's Gold Award, A Good Term's work and Citizenship Award from our local TARA (see our Community page)
February 2015